NEWS & AGENDA
Cultural events by Ukrainian artists and companies
 The agenda will feature the works of individual Ukrainian artists and companies.
The current invasion of the Russian army in Ukraine resulted in the current diaspora.
Dynamic Archive supports and maintains the AgoraMariupol.org project.
SUBSCRIBE TO OUR NEWSLETTER
---
building the event index
 As of April 14, 2023, the event index will be built up
Visit the first event, the exhibition of Ukrainian artist Daria Khozhai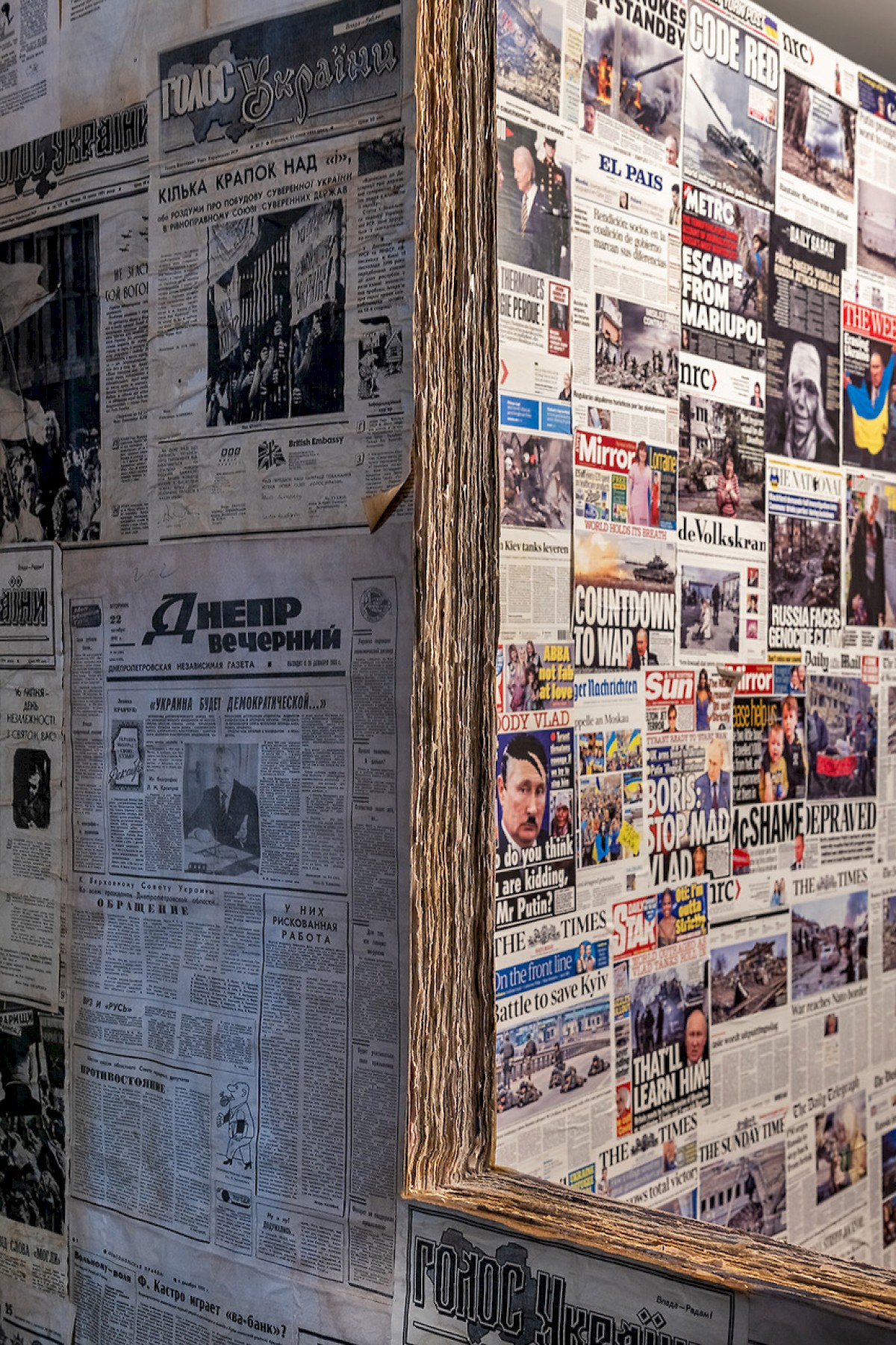 ---
Prague Quadrennial 2023
---
Garden of Living Things Real or virtual?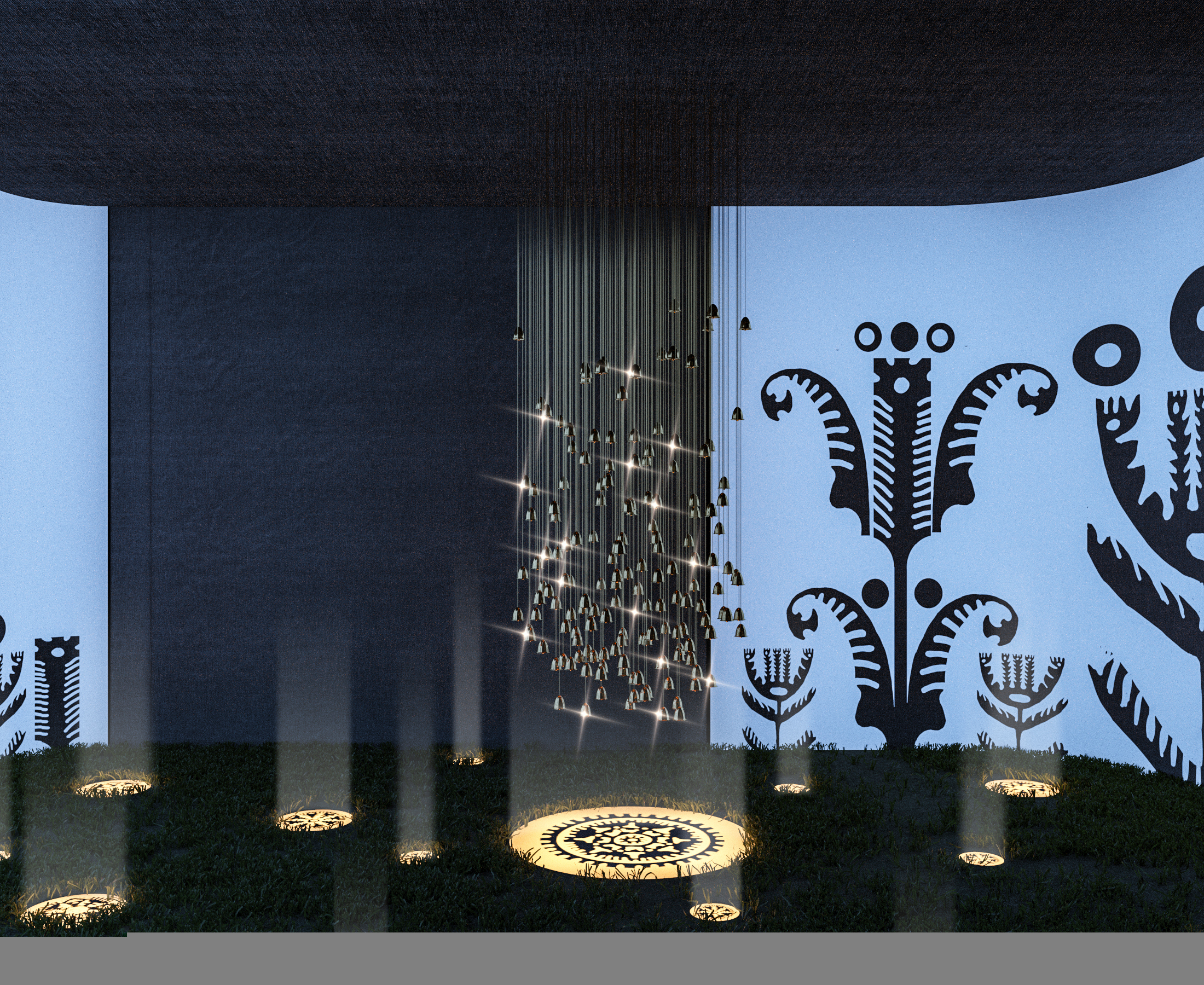 Ukrainian Scenographers are present at the PQ23
Opening of the PQ23: June 8
---
Met Museum Trains 'Monuments Men'
Met Museum Trains 'Monuments Men' to Save Ukrainian Cultural Heritage
Curators are teaching military officers to save imperiled treasures abroad, but their efforts to credit Ukrainian artists have been met with a mixed response.
Source: New York Times 
---
Russian culture sponsors the war
Alexei Ratmansky writes on Instagram
Friends, I want to draw your attention to the Telegram channel called 'Bolshoi -for the Front' ('Большой – фронту'). https://t.me/nosbass
In that group employees of the Bolshoi Theater collect money and things for the russian army. Army that murders, destroys, blows up, floods Ukraine and continues to commit war crimes on the territory of sovereign state. In that group they buy bombs, drones and ammunition and proudly post pictures of them.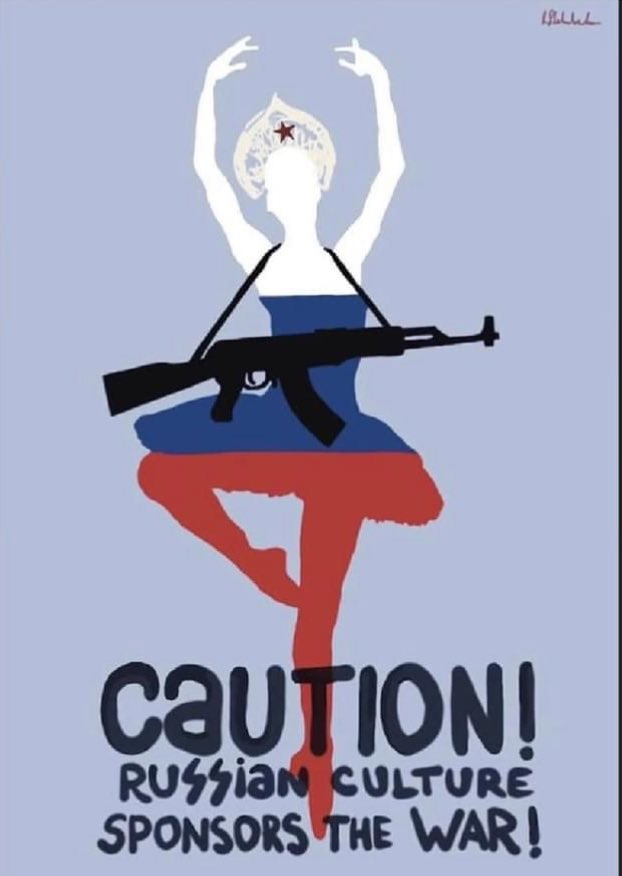 ---
Wrecked Russian tank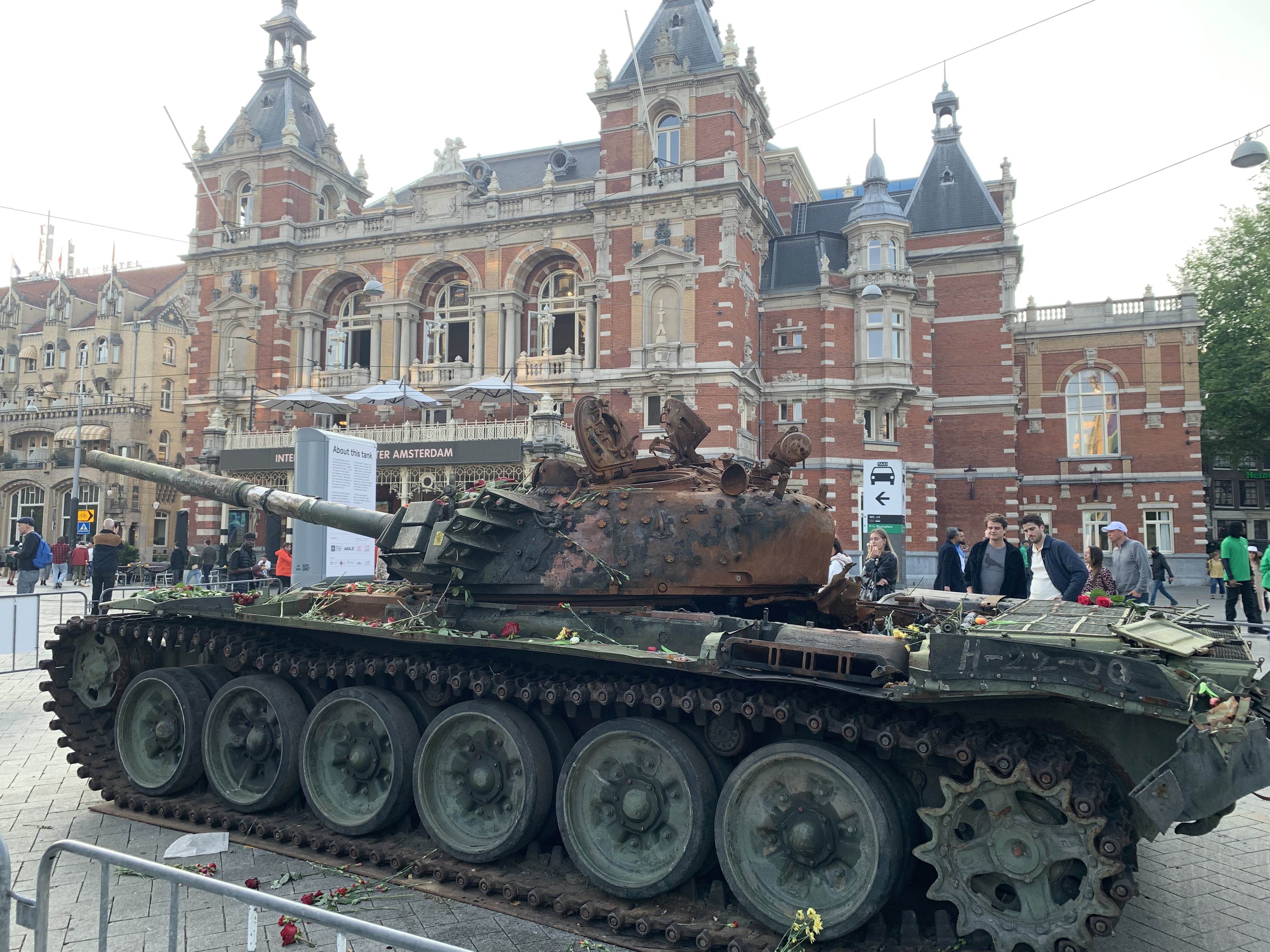 This wrecked Russian tank is exhibited here by De Balie in Front of the International Theater Amsterdam (ITA), as part of the Forum on European Culture held on 31 May - 4 June. It is a symbol of the fragility and resilience of democracy in Europe. The tank, weighing 44 tons, was used by a Russian unit from Ulan-Ude, a city close to the border of Mongolia, 6.300 kilometers from Kyiv.
On March 31st, 2022 this tank was destroyed by Ukrainian soldiers during the Battle of Kyiv in the village of Dmytrivka, near Bucha. In this region, as in many other places in Ukraine, innocent civilians were massacred in acts that have been classified as war crimes by Amnesty International, and are currently under investigation by the International Criminal Court.
Since the war in Ukraine, it has become clear once again that democracy is not a given, but a fragile construct that is under pressure. During the Forum on European Culture 2023, with its theme 'A Culture of Democracy', writers, journalists, artists, and philosophers share their insight on threats to European democracies.
This tank was exposed in Berlin on Unter den Linden and at the Freedom Museum in Groesbeek, NL.
---
"Victory will be inevitable"
"I am certain there will be victory."
Zelensky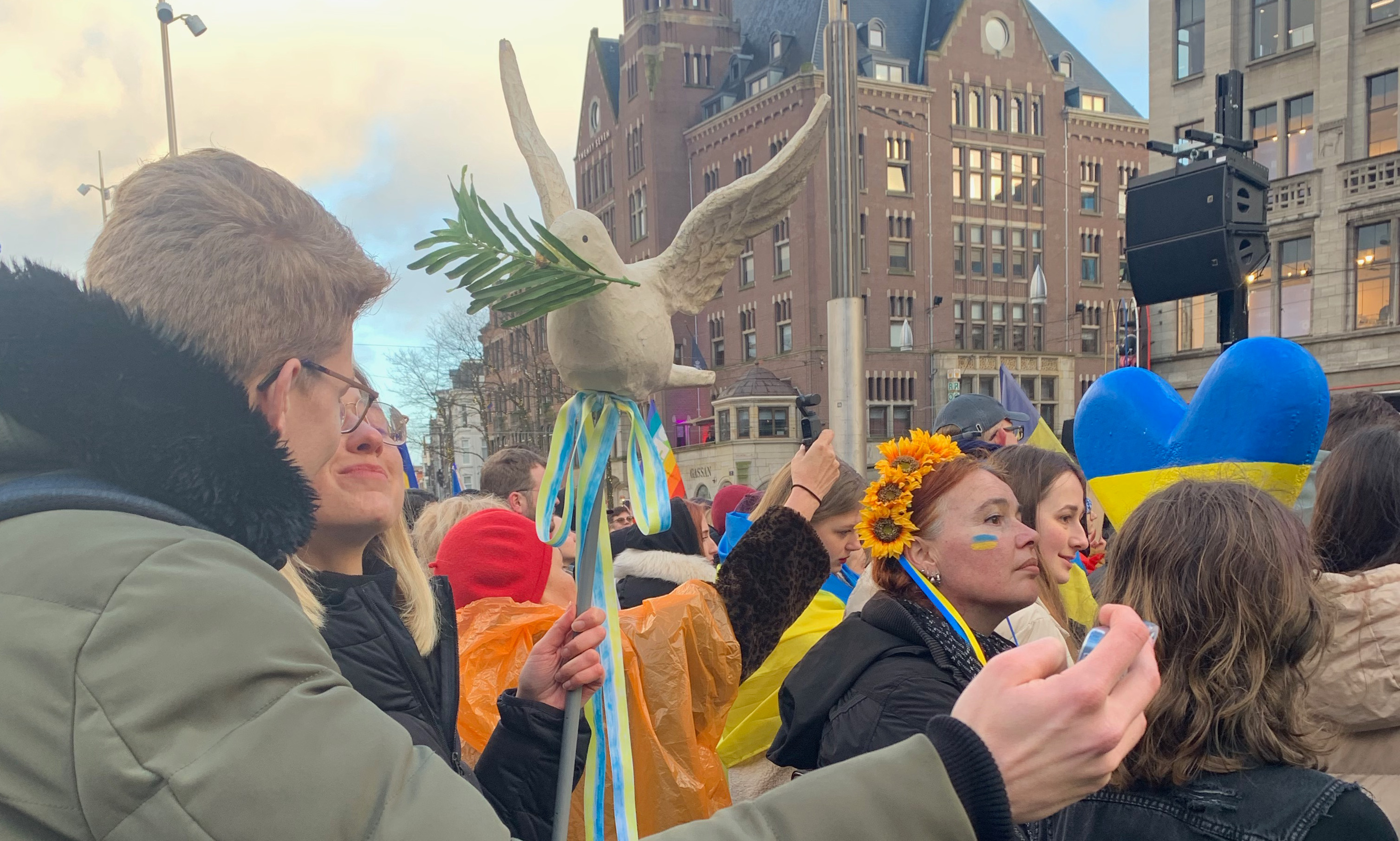 Our 24/2 'A MUST READ'
From 'Letters of an American'
by Heather Cox Richardson
Images: from the DNA database
---
As Russians Steal Ukraine's Art, They Attack Its Identity, Too
Russian forces have looted tens of thousands of pieces, including avant-garde oil paintings and Scythian gold. Experts say it is the biggest art heist since the Nazis in World War II, intended to strip Ukraine of its cultural heritage.
SOURCE: the New York Times
Read PDF 
By Jeffrey Gettleman and Oleksandra Mykolyshyn
Jan. 14, 2023
---
Russian forces 'reconstructing' Mariupol drama theatre, potentially covering war crimes
Under the guise of reconstruction for "historical value," the Russian forces are quickly rebuilding the theater, Petro Andriushchenko, the advisor to the Mariupol mayor, reports. According to Andriushchenko, the Russian forces are hiding evidence from when they bombed the theater on March 16, killing an estimated 300 people who were hiding and awaiting evacuation.
On June 29, Amnesty International called the attack a "clear war crime."
Sources: kyivindependent.com &  hromadske.ua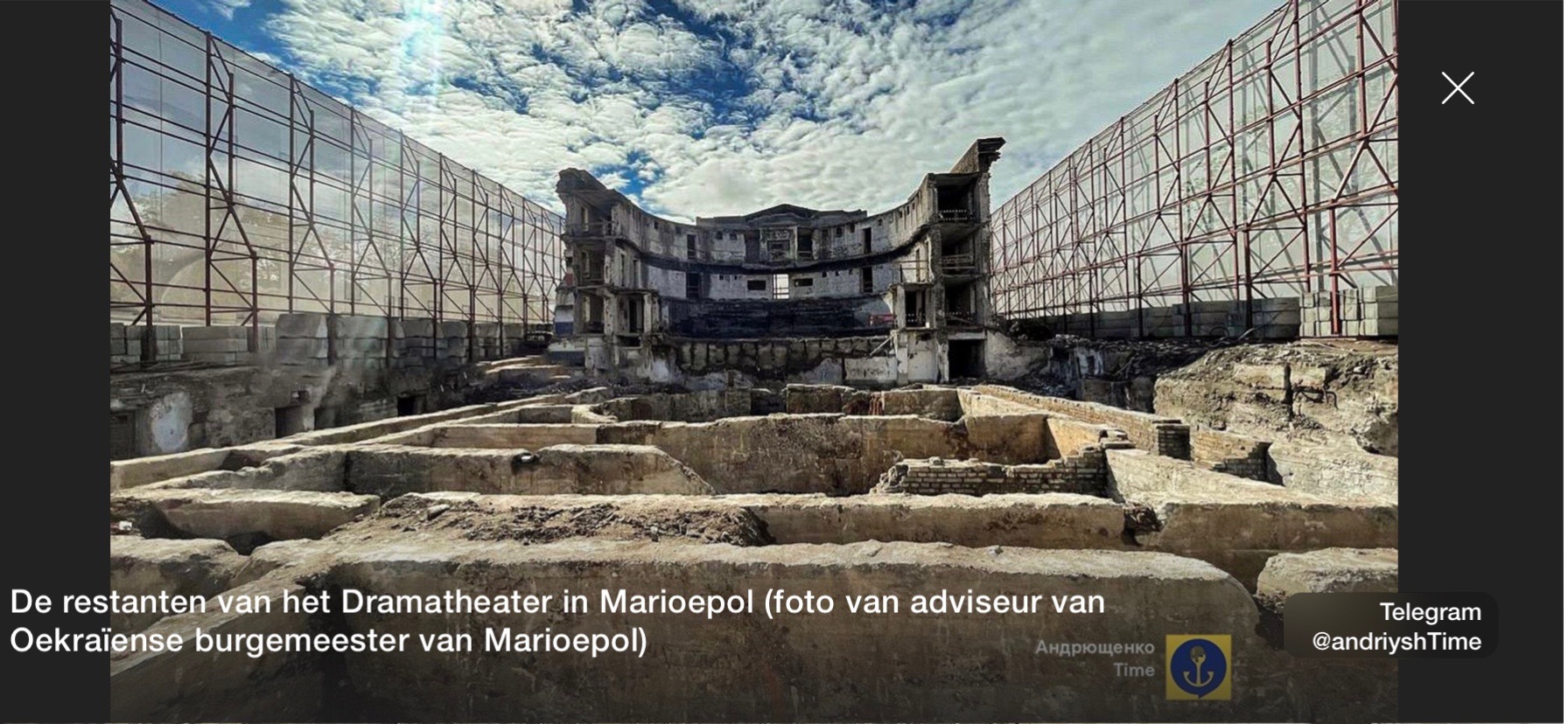 ---
 Read the BBC Newspage, 23 december 2022
---
Join the Agora Mariupol project
Funds that want to join forces and help financially with the physical reconstruction of the Mariupol Theater after de-occupation, are invited. DynamischArchief.nl will support and/or coordinate such actions if appropriate.
However, in the current situation, the Ukrainian Institute will soon posting an Open Call to artists and national art institutions to participate in the construction of the Virtual Museum as a symbol of support for Ukrainian culture. With online 'daily' virtual performances of music and theater we can keep the fight for freedom and democracy alive.
---
The Mariupol Theater actors
Mariupol Drama Theatre actors who managed to escape and are working now on creating a documentary performance based on their own memories
At present the Mariupol Drama Theatre is based in Uzhgorod, Zakarpattia region, it has a new director and some actors working there are those who managed to survive the bombing of the theatre in Mariupol. This new documentary performance is defined as storytelling Mariupol Drama.


Маріупольський драмтеатр: вистава на спогадах акторів / Mariupol Drama Theater: a performance based on the memories of the actors
---
Save life
Save Life foundation supports the Armed Forces of Ukraine by financing solely defense initiatives. Since 2014, Savelife provided about 4.400 thermal imagers and more than 3.000 drones. In addition to financial aid, the Savelife support increased the technological level of the army with the help of 2.800 tablets with Armor software, that helps our soldiers to fire from a covered position.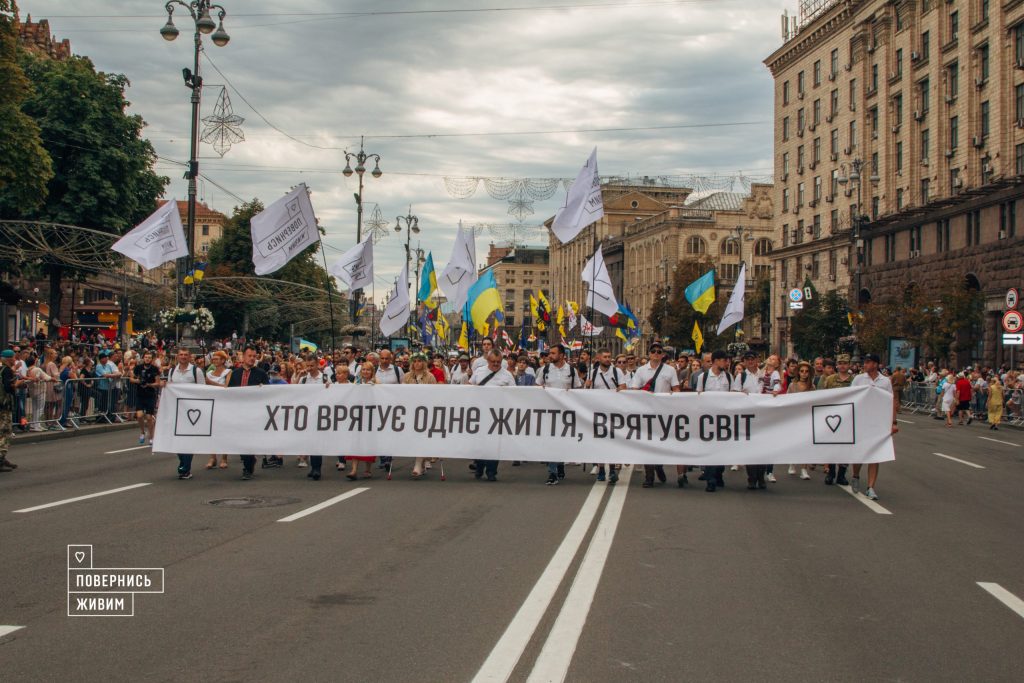 ---
Assisting Artists at Risk
Assisting Artists whose Freedom and Lives are at Risk
---
Ukranian emergency artfund
Independent artists, curators and cultural workers of Ukraine have a right to live, be safe and continue their work.
To deal with the consequences of the Russian invasion and threats the war poses on the Ukrainian art community – (MOCA) Museum of Contemporary Art NGO, in partnership with Zaborona, The Naked Room and Mystetskyi Arsenal established the Ukrainian Emergency Art Fund.
---
Emergency Red List of Cultural Objects at Risk
The International Council of Museums (ICOM) has launched the Emergency Red List of Cultural Objects at Risk – Ukraine in an effort to help protect endangered cultural heritage of Ukraine for future generations in light of the recent invasion by Russian forces.
---
Non-Residential Fellowships for Scholars from Ukraine
In recognition of the need for urgent support of Ukraine's intellectual community in the face of Russia's war of aggression, the Institute for Human Sciences (IWM, Vienna), the Ukrainian Research Institute at Harvard University (HURI), and the Harriman Institute at Columbia University have partnered to offer non-residential fellowships for Ukrainian scholars, cultural figures, and public intellectuals.
These fellowships provide a one-time stipend of 5000 EUR to support recipients' intellectual activities.
---
Special Grants to Museums and Museum Professionals
Support to Museums and Museum Professionals in/from Ukraine.
ICOM is offering a Special Grants round in response to the war in Ukraine and its impacts on neighbouring countries.
It is open to those countries which are supporting, or wanting to support, Ukrainian museums and museum professionals.
---
News & agenda: content
---
Proposals can be send to News & Agenda Agora Mariupol
---
News Items: Archive
News previously published and archived
---